JENNİFER LOPEZ KİMDİR?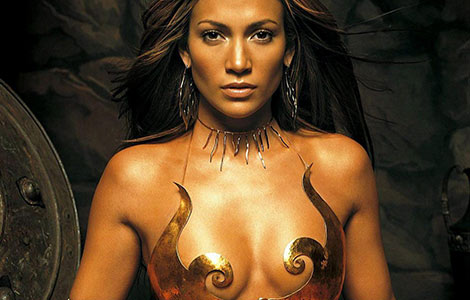 1969 New York doğumlu ünlü sanatçı Jennifer Lynn Lopez, kariyerini şarkıcılık üzerine kurmuş olsa da moda tasarımından dansçılığa kadar birçok meziyeti bulunmaktadır. Jennifer Lopez hayatı incelendiğinde, sanat dünyasına ilk olarak oyunculukla adım attığını görürüz. 7-8 yaşlarında müzik eğitimi almış olmasına rağmen, 15 yaşında küçük yıldız olarak tanınmış ve bundan sonra David Cruz ile yaşadığı aşk sonrası adını sıkça magazin dünyasında duyurmuştur. Ailesi Jennifer Lopez'in bu adımlarını desteklemeyince sanatçı ailesinden ayrılarak tek başına yaşamaya başlamıştır. İlk turnesine de yine 16 yaşlarında Golden Musicals of Broadway korosuyla birlikte çıkmıştır. Ama Avrupa turnesi biter bitmez gruptan ayrılmış dansçı olarak Japonya'da bir şov firmasında çalışmaya başlamıştır.
Jennifer Lopez oyunculuk için işinden ayrıldığında 1993 yılında ilk profesyonel filmi olan Lost in the Wild filmi çekimlerine başlamıştı. 1999 ise onun müzikle tanıştığı, kariyerinin zirve basamaklarını hızla tırmanmaya başladığı yıl oldu.
Jennifer Lopez'in Müzik Kariyeri
Amerika'nın en etkili Latin sanatçısı olan Jennifer Lopez şarkıları büyük bir kitleye hitap etmektedir. Albümü en fazla satış yapan ve 2 milyon rakamlarını deviren en önemli dünyaca ünlü sanatçılardan bir tanesidir. 1999 yılında On The 6 albümü ile adım attığı bu dünyada zirveye oturması kısa sürede gerçekleşmiş, 2007 yılında beşinci stüdyo albümü ile dünya yıldızı olduğunu 2 milyonluk satışı ile kanıtlamıştır. 2004 yılında uzun süredir birlikte olduğu şarkıcı Marc Anthony ile evlenmiş ve Jennifer Lopez hayatını bir değişime uğratmıştır. 2008 yılında Emma ve Maximilian adlı ikizlerini dünyaya getirdikten sonra annelik rolünü de çok iyi taşımayı becermiştir. 2014'te üçüncü eşi Anthony'den ayrılmıştır.
Jennifer Lopez şarkıları listesi incelendiğinde uzunca bir liste oluşturmakla birlikte kendisi de en çok dinlenen ilk üç kadın sanatçıdan biridir. Her konseriyle olay yaratmakta, konserlerinde sergilediği dans şovları ile dansçı kişiliğini ortaya koymaktadır. Jennifer Lopez müzikleri genelde hareketli bir ritme sahip olduğundan danslarda fazlaca enerji isteyen koreografilerden oluşmaktadır. Bu nedenle sanatçı dansçılarını kendisi eğitir ve sahne şovlarında onlara eşlik eder. Kariyerinde koreograflıkta olan Lopez'in sahne şovlarında ilgi çeken gösteriler çoğu zaman kendi fikriyle ortaya çıkmış ve uygulanmıştır.
Jennifer Lopez Albümleri:
Ain't Your Mama - Single (2016), A.K.A. (Deluxe) (2014), Booty (feat. Iggy Azalea) - Single (2014), I Luh Ya Papi (feat. French Montana) - Single (2014), Live It Up (feat. Pitbull) - Single (2013), Goin' In (feat. Flo Rida) - Single (2012), Dance Again... The Hits (Deluxe Version) (2012), Dance Again...The Hits (2012), Love? (2011), This Is Me...Then (Deluxe Version) (2002), J. Lo (2001)