METALLİCA KİMDİR?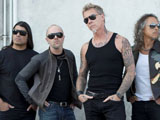 Metallica
Metallica, ilginç bir öyküyle ABD'de San Francisco şehrinde kurulan, 80'lere damgasına vursa da her dönem bıkmadan dinlenilen ve metal müziği insanlara sevdiren özel bir gruptur. Grubun kuruluş hikayesi gazeteye verilen bir ilanla başlar. Grubun kurucu üyelerinden James Hetfield, 1981 yılında gazeteye "davulcu aranıyor" ilanı vererek, Lars Ulrich ile tanışır ve hikaye başlar. Grup tarafların tanışmasından 5 ay sonra, resmi olarak 28 Ekim 1981 tarihinde kurulur. Bu kez gazeteye gitarist için ilan verilerek, Dave Mustaine ekibe dahil olur. İlerleyen zamanlarda ise türlü sebeplerden ötürü gruba giren ve çıkan birçok isim olmuştur. 2008 itibariyle grubun son üyeleri ise; Lars Ulrich, Kirk Hammett, James Hetfield, Robert Trujilllo'dur.
Çıkardıkları albümlerle giderek çoğalan hayran kitlesine ulaşan grubun, en ilham verici albümü olarak Master Of Puppets (1986) bilinmektedir. Black Album (1991) ile hem çok büyük kazanç elde etmişler, hem de heavy metal müzik adına çok başarılı olmuşlardır. Metallica Nothing Else Matters şarkısı bu albümün en ses getiren parçasıdır. Metallica Enter Sandman ise grubun konserlerinde en çok seslendirdiği şarkısıdır. 1991 yılında çıkardıkları, Metallica The Unforgiven parçası da en yoğun ilgi duyulan şarkılardandır. Metallica'nın 10 tane Grammy Müzik Ödülü bulunmakla beraber, sırasıyla çıkardıkları beş albümün hepsinde satış listelerinde birinci olmuşlar ve bu özelikleriyle ABD'de bilinen ilk gruptur. Metallica şarkıları sevenleri tarafından ezbere bilinmektedir. 2016 verileri itibariyle 7 kıtada konser veren tek gruptur.
Albüm satışları çok iyi olan grup, ayrıca internette Metallica dinle yazılarak, online olarak da dinlenilmektedir. Metallica heavy metal müzik türünde şarkılarıyla tanınınmış ve sevilmiş olmasına rağmen, hard rock müziğine yaptığı katkılarla da müzik tarihine geçmiştir. Metallica müzik tarihine adını altın harflerle yazdırmış, unutulmayacak bir efsanedir.
Grup çıkardığı albümlerle birçok ödüle layık görülmesine karşın, sergilediği performanslar da ödüllendirilmiştir. Bazıları; 1992 yılında yaptıkları Metallica performansıyla "en iyi metal performansı", 2001'de The Call Of Ktulu ile "en iyi rock enstrümantal performansı" ödülü ile ödüllendirilmiştir.
Metallica Şarkıları Albümleri:
Hardwired…To Self-Destruct (Deluxe) (2016), Hardwired…To Self-Destruct (2016), Hardwired…To Self-Destruct (Deluxe) (2016), Hardwired…To Self-Destruct (2016), Ride the Lightning (2015), Metallica Through the Never (Music From the Motion Picture) (2013), Beyond Magnetic - EP (2011), The Videos 1989-2004 (2008), Death Magnetic (2008), I Disappear - Single (2008), Death Magnetic (2008), St. Anger (2003), S&M (Live) (1999), Garage Inc. (1998), Garage Inc. (1998), Reload (1997), Reload (1997), Load (1996), Load (1996), Metallica (Remastered) (1991), Metallica (1991), Metallica (1991), ...And Justice for All (1988), ...And Justice for All (1988), Master of Puppets (1986), Master of Puppets (Remastered) (1986)