SİA KİMDİR?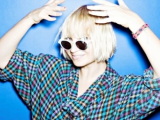 Sia
Asıl adı Sia Kate Isabelle Furler olan sanatçı Avustralya'da 1975 Aralık'ının 18. günü dünyaya gelir. Müzik yaşantısına caz ile başlayan Sia daha 17 yaşında iken bir yerel grup vasıtasıyla sahne tecrübesi alır. Bu küçük albüm çalışması ile Sia dinle ve yaz düsturuyla müzik yaşantısına devam etmeye kararlıdır. Crisp adlı bu grup ile yollarını iki yıl sonra ayıran güzel sanatçı yirmi iki yaşında 1997 yılında profesyonel anlamda ilk albüm çalışmasını yapar. Only See adını verdiği solo çalışması ile beğeni kazanan genç şarkıcı İngiltere'ye gitme ve müziğini orada sürdürme kararı alır.
İngiltere'ye gittikten sonra soul caz, pop, alternatif rock diyebileceğimiz birçok müzik türünü dener, bu konularda kendini yetiştirmeye çalışır. Müziklerine kendine özgü dansı ile renk katan sanatçı Londra'da ikinci albüm çalışmalarına girişir. Uzun bir aradan sonra 2001 yılında sevenlerinin karşısına Healing İs Difficult ile çıkar. Sia şarkıları ile her geçen gün İngiltere'de adından söz ettirmeye başlar. Taken For Granted adlı single çalışması ile ülke müzik listelerinde ilk ona girmeyi başarır.
Zero 7 adlı grup ile çalışmalar yapmaya devam eden Sia my love adlı şarkısı ile yine listeleri altüst etmekte her kesimden hayran kitlesi oluşturmaktadır. Albüm çalışmalarında aceleci olmayıp mükemmeli arayan sanatçı tam üç yıl sonra 2004'te üçüncü albümü olan Colour The Small One ile sevenlerinin karşısına çıkar. Bu albümü yine uzun bir aradan sonra 2007'de yayınladığı Lady Croissant takip eder. Muhteşem bir konserini albüm haline getirmekle sevenlerini şaşırtan sanatçı bu kez bir yıl sonra yapacağı albüm çalışması olan Some People Have Real Problems ile Amerikan müzik listelerinde üst sıralara tırmanır. Hatta 2013 Grammy ödüllerinde en iyi rap dalında ödüle aday gösterilir. Chandelier ile milyonlar tarafından beğeni yağmuruna tutulan Sia elastic heart ile adından sıkça söz ettirir. Maddie Ziegler ile Shia LaBeouf bu şarkının klibinde oynayınca şarkıcı için pedofili söylentileri alır başını gider. Sia this is acting ile 2016 yazına damgasını vurur.
Sia Şarkıları Albümleri:
I'm Still Here - Single (2018), Free Me - Single (2017), Move Your Body (Single Mix) - Single (2017), Wonder Woman: Original Motion Picture Soundtrack (2017), Everyday Is Christmas (2017), The Neon Demon (Bande originale du film) (2016), This Is Acting (2016), Cheap Thrills (Remixes) (2016), Cheap Thrills (feat. Sean Paul) - Single (2016), The Greatest (feat. Kendrick Lamar) - Single (2016), Finding Dory (Original Motion Picture Soundtrack) (2016), This Is Acting (Deluxe Version) (2016), Angel by the Wings - Single (2016), Lion (Original Motion Picture Soundtrack) (2016), Alive - Single (2015), San Andreas (Original Motion Picture Soundtrack) (2015), San Andreas (Original Motion Picture Soundtrack) (2015), 1000 Forms of Fear (2014), 1000 Forms of Fear (Deluxe Version) (2014), Chandelier Remixes - EP (2014), Chandelier (Piano Version) - Single (2014), You're Never Fully Dressed Without a Smile (2014 Film Version) - Single (2014), We Are Born (2010), Some People Have Real Problems (2008), Some People Have Real Problems (2008), Some People Have Real Problems (2008), Lady Croissant (2007), Colour The Small One (2004)